IBEW Local 743/NECA Electrical Training Alliance has been training electricians since 1943, creating the region's top electrical workforce. Our highly skilled instructors at the IBEW Local 743 JATC have produced the top electrical journeymen in Berks, Lancaster and Schuylkill counties. 
The electrical industry is highly technical and physically demanding. For those who enter into the electrical apprenticeship, the work will provide challenges, but is also rewarding.  Local 743 members receive quality pay, healthcare and retirement benefits, plus continued journeyman education. 
In a constantly changing industry, with advancements in techniques and technology, it is critical to ensure that our apprentices and journeymen are up-to-date on their training and certifications. Through our continued education programs at the IBEW 743 JATC, which are offered to all Local 743 members, we help them remain the region's best skilled and most efficient electrical workforce.
Our electricians also receive industry-leading OSHA safety certifications in order to maintain a safe work environment for themselves, their fellow members and others on the jobsite.
Why join IBEW
No electrical experience required

Little to no cost for training

Earn excellent wages and benefits

Learn from high quality journeymen electricians in the industry

Earn college credit

Work in a diverse atmosphere

Job advancement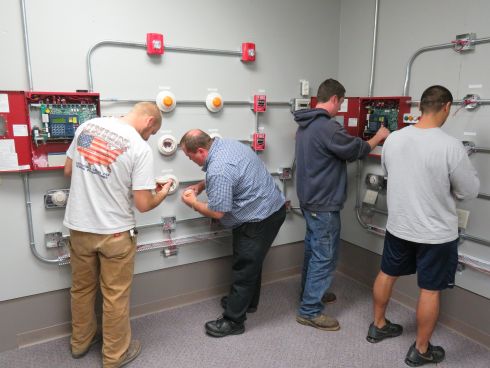 Our earn-while-you-learn apprenticeship model allows apprentices to develop their skills as they work side-by-side with journeymen on the job. Apprentices receive classroom training to enhance their industry knowledge, improve vital math and science skills required to properly perform their job and provide them with additional skills needed to help them become true craftsmen or craftswomen. Each apprentice completes a minimum of 1,000 hours of classroom training.